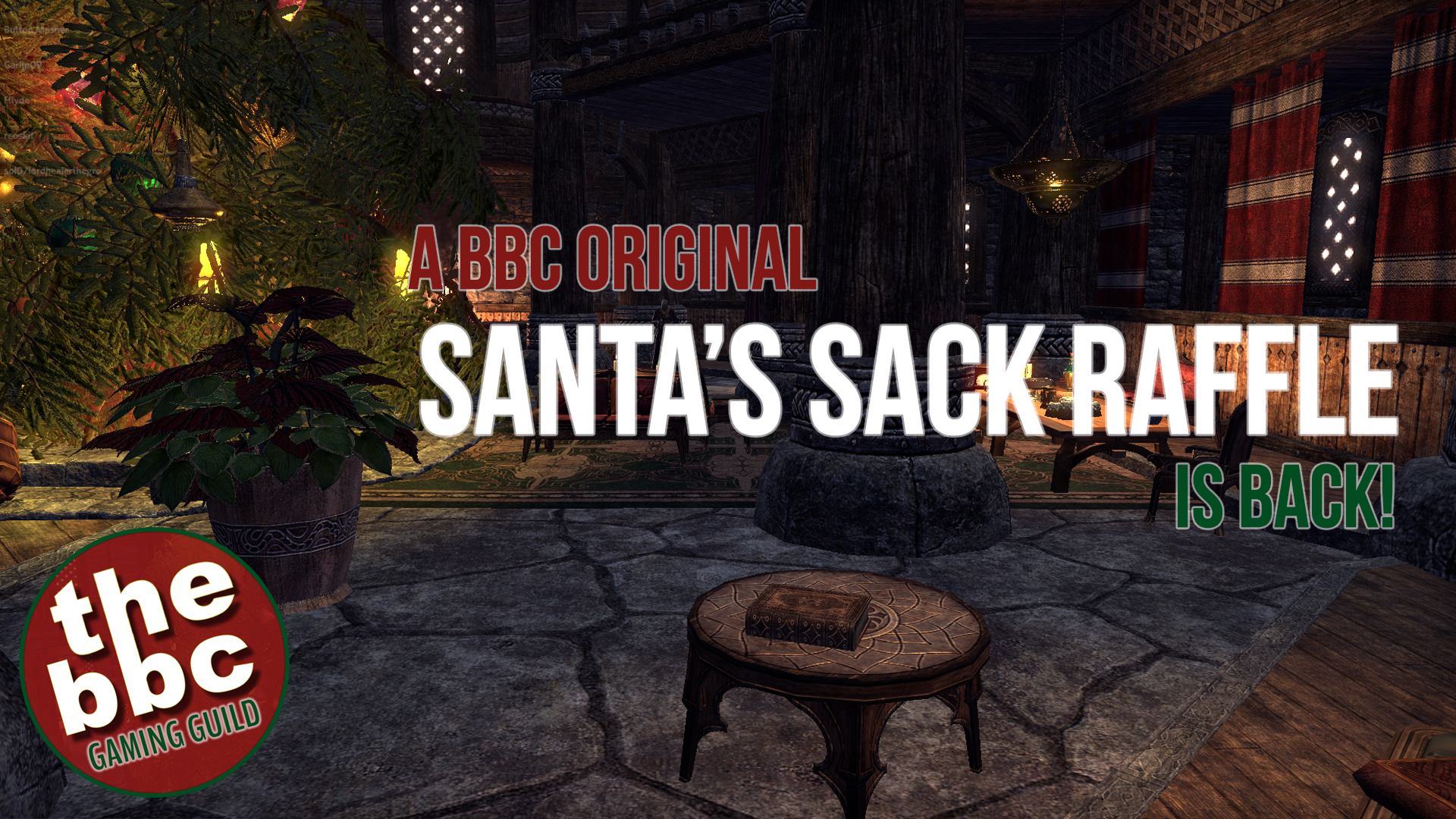 SANTA'S SACK
2 0 2 2
It's that time of year, when your raffle hosts take the back seat and YOU get to supply the raffle prizes!
Everyone who submits a sack will be eligible to win 2.5 MILLION GOLD *PLUS* the recipient of their sack will ALSO win 2.5 MILL!

Santa's Sack is a wonderful BBC tradition where you can make a fellow guildie's holiday brighter with a personal gift to celebrate the season!  It's also our biggest raffle of the year with amazing odds to win a prize.  <3
So, put on your fuzzy red & white thinking cap and come up with a fun or creative theme for your sack.  Or,  if you're the "Gift Card Gifter" type of Santa, you can do that, too, with "Gift Cards" of Gold, Crowns, AP, Telvar or Writ Vouchers!  See below for gift ideas plus all the details on how to donate a sack and how to WIN someone's sack! 
HOW TO SUBMIT YOUR SACK
 To keep processing as simple as possible for the officers, please honor the following guidelines:
Your sack Must fit into 2 mails
If you're putting together a sack that will take more than 2 mails (such as a farm), please contact @Hiyde or @D-Ray in-game or on our Discord  before sending.
One Sack per Member (even if you are in both guilds!)
Minimum Value:  100,000G (per MM past 30 days)
Every 100K in value = an entry for YOU to win 2,500,000G!
(i.e. if your sack is worth 300K, that's 3 entries.)
Sack Submission Deadline is 11P EDT Sunday, December 18th
Sack Ideas:  
Themed sacks such as Jewelry Mats, Blacksmithing mats, Alchemy mats, etc.
Motifs
Consumables (Valuable foods, ambrosias, etc)
Sought-After Style Pages
Housing Items
Crowns (400 Crowns minimum please), Crown Crate(s) or any giftable Crown store item(s).
Tel-var, AP, Writ Voucher "Gift Cards"
Good 'ol GOLD!
You can mix/match items+gold+crowns however you'd like.


Mail your sack to:
@raftix (Blackbriar)
@BBCGuild (Bleakrock)  
HOW TO WIN A SACK:
It works just like every BBC Raffle.  Beginning 12/13 at 11P ET, Mail 1,000G x the number of tickets you'd like to:
@raftix (Blackbriar Members)
@BBCGuild (Bleakrock Members)
Odds of winning something in a BBC Raffle don't get any better than Santa's Sack! 
BONUS:  You'll be screaming HO! HO! HO! if Santa chooses YOUR sack to stuff an extra 2.5 MILLION GOLD into!
We will reveal the Sacks & Winners on: 
Tuesday, December 20th at 10 PM ET.
(the ticket window will close early at  8PM ET.)
THE FINE PRINT:
Need not be present to win.
This is a joint raffle between both BBC Guilds
Sack value will be determined by GM Master Merchant
One sack per member maximum (even if you are in both guilds)
You cannot win your own sack (we'll re-draw if that happens)