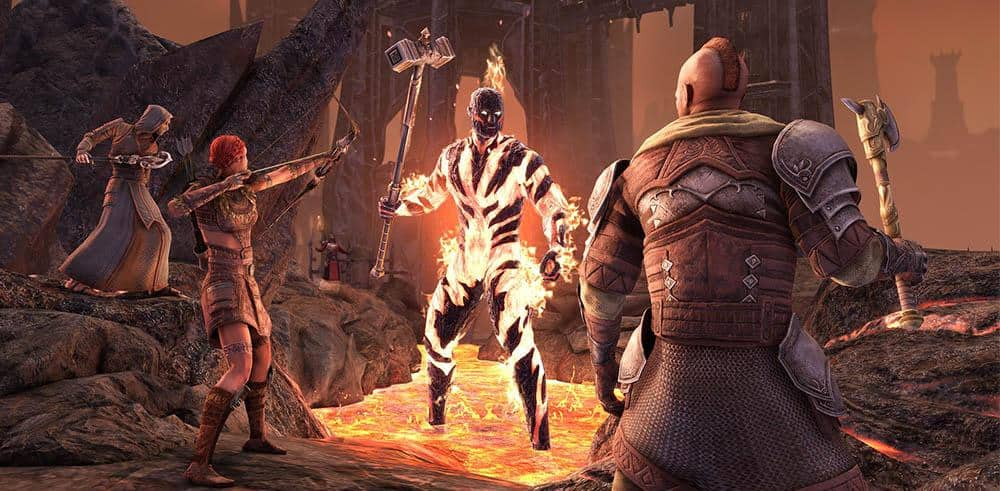 Get ready for your adventures in Blackwood and all the changes coming with Update 30 with these useful community-made guides and builds.
Note that these guides were crafted with information taken from our Public Test Servers, and as such, some details might be out of date.
Blackwood Zone
Lucky Ghost—Complete Beginner's Guide-Blackwood Edition 2021
ESO is a big game, so if you're a new player, this massive guide is a great place to get started!
[YouTube]
Brah We Got This—5 EASY Ways to Make Gold in ESO Blackwood
Blackwood might have its dangers, but it also has its fair share of riches! Brah We Got This outlines his most-effective ways to make gold in the new zone.
[YouTube]
Shimmer – Blackwood – Lost in the Wilds Achievement Guide
Unlock a free bogdog pet with this quick-and-easy Achievement guide from Shimmer.
[YouTube]
Isth3reno1else—Mythic Items Coming to Blackwood
If you're interested in Blackwood's new Mythic items and how they'll fare in PvP, check out this breakdown from Isth3reno1else.
[YouTube]
Companions
Nara Elling on ESO-Hub—Companions Guide
Want to learn more about the new Companions system? Nara has crafted a huge written guide on ESO-Hub.com!
[YouTube]
AlcastHQ—Companion System
If you're looking for a strong build for Bastian Hallix, Alcast has a written guide designed to help you get the most out the Imperial battlemage. For everything on Companions from Alcast, visit his website.
[YouTube]
Update 30
Tianlein—Seals of Endeavors
Tianlein outlines what you need to know about the new Endeavors system and the Seals currency. Note that this new system won't be live until mid-June.
[YouTube]
Icy—Champion Points 2.1 (Q2 2021 changes)
If you're at Champion level and want to learn about the changes coming to the Champion system with Update 30, Icy has you covered.
[YouTube]
Zero Point Productions—The Isle of Balfiera – Elder Scrolls Online's New Tutorial Quest
One of the new Update 30 additions, Zero Point breaks down the new tutorial system that all players will now get to play through with new characters.
[YouTube]
Xynode—Almost Immortal Warrior DK Tank Build (Update 30)
Xynode has made some important tweaks to his classic Almost Immortal Warrior build thanks to Update 30's changes to proc sets.
[YouTube]
That's it! Thank you to all our amazing ESO community content creators for putting together these wonderful guides and builds. Of course, this is just a small sample of everything these creators (and others) have crafted for Blackwood and Update 30, so if you've published or enjoyed something you think the rest of the #ESOFam would love, share it with us on Twitter, Instagram, and Facebook!
The Gates of Oblivion year-long saga continues with the Blackwood Chapter, now live on PC/Mac and Stadia, and coming June 8 for Xbox One, Xbox Series X|S, PlayStation 4 and PlayStation 5.