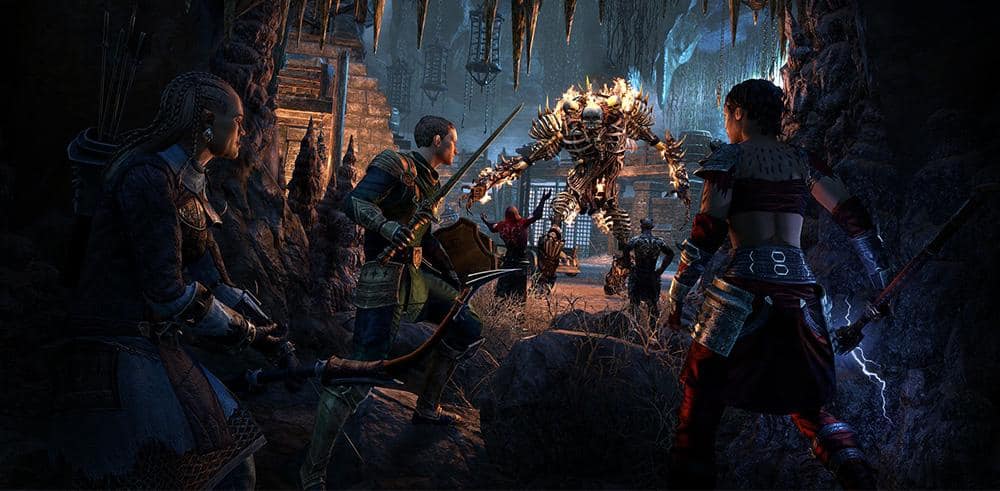 Show no fear of beast or blade, and you can earn unique rewards during the Undaunted Celebration in-game event. We are Undaunted!
Take the Pledge
The Undaunted Celebration begins next Thursday, November 18 from 10AM EST, and it runs until Tuesday, November 30 at 10AM EST. During this in-game event, you can earn bonus rewards when completing any of ESO's challenging four-player PvE dungeons.
Get started by jumping into any dungeon in the game (via your map, Activity Finder, or the dungeon's overland entrance) or by completing the introductory quest titled "Glory of the Undaunted" (found in Crown Store).
Tackle the Gates of Oblivion dungeons (and more) for bonus rewards
Earn Shiny Rewards
When you slay a dungeon's final boss during the event period, it will drop a unique Undaunted Reward Box, containing a host of valuable items and consumables that can include treasure maps, survey reports, valuables (to sell to vendors), crafting materials, motif style pages, Undaunted Keys, and more.
If you can't take on a dungeon right now, don't fear! You can also earn one Undaunted Reward Box a day by completing Bolgrul's daily Undaunted delve quest. You can find Bolgrul within any Undaunted Enclave.
Glorious Undaunted Reward Boxes
The first time you defeat a dungeon's final boss each day, it will drop a Glorious Undaunted Reward Box (instead of a regular Reward Box) that has a chance to include the regular Reward Box items and is guaranteed to contain an Opal Weapon Style page. Note that while the only way to get a guaranteed Opal Weapon Style drop is within a Glorious Reward Box, there's still a (rare) chance you might find one in a regular box, too!
The Opal Weapon style pages can include the Iceheart, Lord Warden, Nightflame, and Swarm Mother styles, however, for the first time, you can also acquire the Chokethorn Opal Weapon Style.
Opal Monster Mask Style Pages
During the event period, when defeating the final boss within certain dungeons on veteran hard mode, you also have a bonus chance to receive an Opal Monster Mask Style page relevant to that dungeon. You can see the dungeons and mask styles they have a chance to drop below:
Chokethorn (Elden Hollow I)
Iceheart (Direfrost Keep)
Lord Warden (Imperial City Prison)
Nightflame (Elden Hollow II)
Swarm Mother (Spindleclutch I)
Opal Monster Shoulder Outfit Style Page
If you own the non-Opal version of a monster shoulder style, you can also acquire the Opal version of that style with Undaunted Keys from Undaunted vendors. These vendors will also sell mystery coffers that provide random Opal shoulder style pages.
Trade Undaunted Keys for Shoulder Style pages
Impresario & Event Tickets
During the Undaunted Celebration, you can earn two event tickets per account from the first final dungeon boss you defeat per day—make sure you have space! Throughout the event period, the Impresario will stock the following goods:
All three Unstable Morpholith pet fragments

Deadlands Flint, Rune-Etched Striker, and Smoldering Bloodgrass Tinder

Three Doomchar Plateau house fragments

Scorching Pillar, Searing Column, and Molten Key

Bound style pages for the following Opal weapons and Opal Masks and Shoulders:

Chokethorn
Iceheart
Lord Warden
Bogdan the Nightflame
Swarm Mother

Impresario Group Repair Kits
This is another opportunity to collect the fragments for the Doomchar Plateau house, the Q4 event morphing collectible.
Claim a plot of land in Dagon's realm of Oblivion
As a reminder, if you wish to acquire this house by the end of the year, you need to have an Unstable Morpholith pet to morph AND all five upgrade fragments. Learn more about how morphing collectibles and upgrade fragments work in our guide article and keep an eye out for future in-game event news.
Tackle Tamriel's Dungeons
Gather your team and dive into ESO's PvE four-player challenges and you can earn shiny new loot and bonus rewards for your troubles. Are you geared up and ready to tackle some dungeons during the Undaunted Celebration in-game event? Let us know on Twitter, Instagram, and Facebook. We. Are. Undaunted!
The Undaunted Celebration begins next Thursday, November 18 from 10AM EST, and runs until Tuesday, November 30 at 10AM EST.