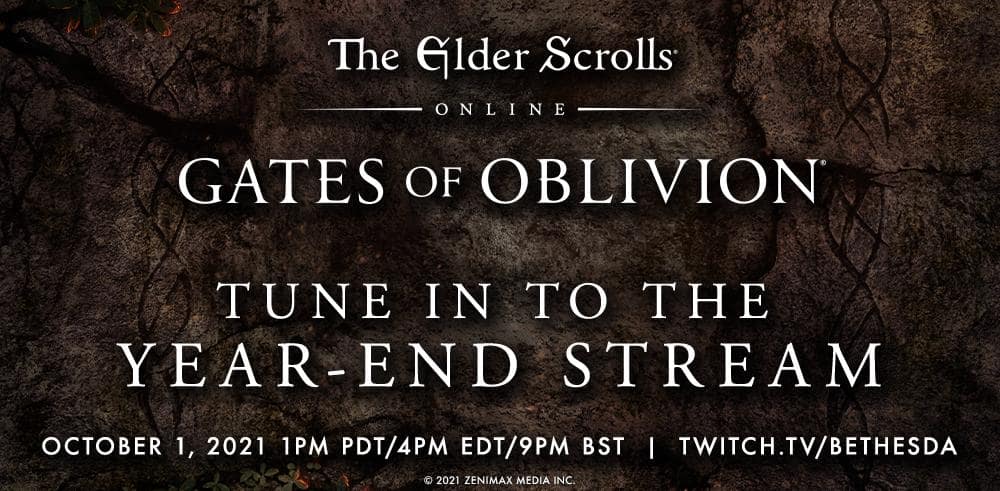 Learn more about the upcoming Deadlands DLC and Gates of Oblivion adventure during our developer stream and post-show!
The Gates of Oblivion Year-End Stream will be live on Twitch.tv/Bethesda next Friday, October 1 at 4PM EDT. During the show, you will see a behind-the-scenes look at the upcoming The Elder Scrolls Online: Deadlands story DLC from the ESO development team, including Creative Director Rich Lambert, Zone Lead Tom Murphy, and Senior Content Designer Janet Priblo.
In addition to our developer's Deadlands DLC deep-dive, we'll also have new information about upcoming in-game activities and events, our ongoing Trivium partnership, and more. Even better, tune in to the show with a linked account and you'll receive an all-new Nibenese Pony pet and an Ouroboros Crate as a reward!
This livestream will go live simultaneously in multiple languages across various territories:
Immediately after the Year-End Stream, Community Managers Gina Bruno and Jessica Folsom will host Rich for a special post-show Q&A stream, focusing on the upcoming Update 32 base-game patch. If you have questions about the latest update (now available on the PTS!) ask them in this forum thread for a chance for the team to answer them live! Please keep your questions specific to Update 32, since we don't want to spoil the Deadlands story before the DLC arrives later this year.
In addition to the official post-show and Q&A, there'll be official and community-run livestreams all over the globe following the Year-End Stream. Check out this list to see what streams we'll be supporting in your territory.
ANZ Post Show
Polish Post Show
UK Post Show
French Post Show
German Post Show
Italy Post Show
Middle East Post Show
Turkish Post Show
Netherlands Post Show
Enter the Deadlands
The cataclysmic conclusion to the Gates of Oblivion is right around the corner, but you can get the inside scoop on the upcoming Deadlands DLC during the Year-End Stream on Twitch.tv/Bethesda next Friday, October 1 at 4:00PM EDT—don't miss it!