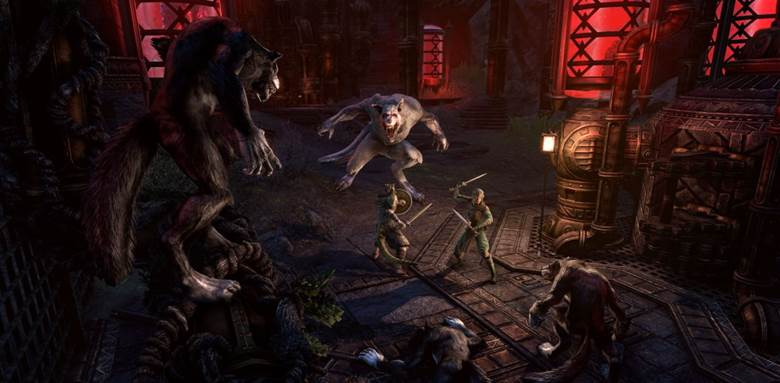 Who has no fear of beast or blade? UNDAUNTED! Earn bonus loot during the Undaunted Celebration, ESO's PvE dungeon event!
Important note: We have made the decision to officially move the upcoming Undaunted Celebration event, and it will now begin December 3 at 10AM EST and run until December 15 at 10AM EST. This change will allow the team to make several fixes to help dungeon performance and stability that will be implemented as part of the upcoming PC/Mac and console incremental patches.
We believe these fixes will result in a significant improvement to dungeon performance during this period. We appreciate the ESO community's patience while we work to make sure this event runs as smoothly as possible for everyone.
We Are Undaunted!
The Undaunted Celebration begins Thursday, December 3 at 10:00AM EST and runs until Tuesday, December 15 at 10:00AM EST. During this in-game event, you can earn bonus rewards and glory for completing any of Tamriel's four-player dungeons.
To join the fight, use the Dungeon Finder tool or travel to any dungeon in Tamriel and complete it on Normal or Veteran difficulty—you choose!
Shiny New Collectibles
When you defeat a dungeon's final boss during this event, in addition to its regular rewards it also drops an Undaunted Reward Box. These celebrated containers can hold all kinds of useful and valuable loot, including Undaunted Keys, Undaunted Plunder (to sell for gold), motif pages, repair kits, transmute crystals, and more. If you're not sure that you're ready to tackle dungeons (or perhaps don't have the time), you can also earn one Undaunted Reward Box a day by completing Bolgrul's daily Undaunted delve quest. You can find Bolgrul within any Undaunted Enclave.
During the event period, the first time you complete a dungeon each day, you'll receive a fancier, Glorious Undaunted Reward Box. This daily drop will include the same rewards as its less-famous cousin, but it's also guaranteed to contain an Opal Weapon Style page for the following boss styles:
NEW Iceheart (Direfrost Keep)
NEW Lord Warden (Imperial City Prison)
NEW Nightflame (Elden Hollow II)
NEW Swarm Mother (Spindleclutch I)
Ilambris (Crypt of Hearts I)
Troll King (Blessed Crucible)
Bloodspawn (Spindleclutch II)
Engine Guardian (Darkshade Caverns II)
Don't forget to loot the final boss!
However, that's not all you can earn during this event. If you complete one of the above dungeons on Veteran Hard Mode difficulty, you also have a chance (just a chance) to earn an Opal Monster Mask style page for their respective bosses.