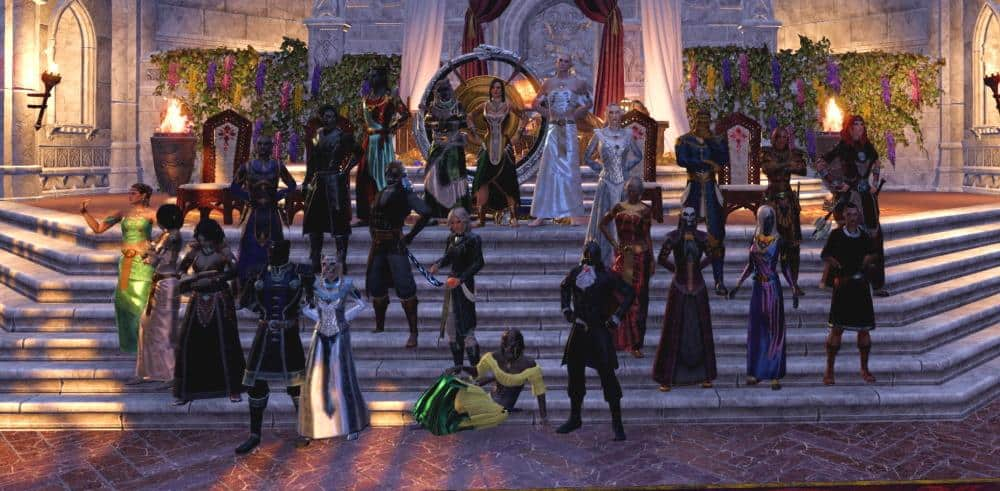 The Guild crafting their own stories
Is it tricky to manage an RP Guild? How do you manage it?
Sarethi: In truth, I find that Goldleaf is a relatively low-maintenance guild. When it comes to management, I simply do my best to ensure all my members are happy and comfortable in the environment we've all built for one another. In game, we keep a somewhat loose rank structure that rewards participation, though it doesn't penalize a lack thereof. Out of game, we prefer to socialize and organize events through Discord, which I manage alongside my three officers.
Jin: Seeing as the members of Goldleaf are first and foremost friends, it's pretty simple to handle the upkeep. There are some general maintenance details to handle, the usual behind-the-scenes paperwork so to speak, but overall, it's a very low-maintenance experience. The guild uses Discord to allow our members to communicate when not in-game, and it helps us to organize our events. Every member is allowed the freedom to bring stories and event ideas to the table, allowing for everyone to provide tales.
Do you have any fond Guild memories you'd like to share?
Sarethi: Goodness, that's a bit difficult! After five years, we've a lot of memories to choose from! We had a recent event where a single artifact was hidden amongst a large storage room of strange items, and touching one would have a bizarre (but ultimately harmless) effect fall upon the individual in question. The result was incredibly humorous, and the innovation of our DM was incredible.
That aside, much of our history has involved episodic events, or large gatherings for celebration and socialization. One such involved searching through Dwarven ruins for pieces of a priceless weapon, almost legendary in nature. Another entailed getting together for our 5th anniversary, filling up a Psijic Villa home with a myriad of characters who all danced and enjoyed themselves.
Really, there are so many little moments that I've enjoyed and that I would not trade for anything. It's hard for me to pick just a handful.
Jin: I've found many of my best memories to be tied to the connections I've made within the guild itself. With such a chaotic year, Goldleaf has steadfastly remained a place of joy and laughter where we can relax and just enjoy one of our favorite games with our friends. The people I've met here are absolutely incredible, and quite a few I would say have even been life-changing for me. I hope that they'll remain my good friends for many years to come.