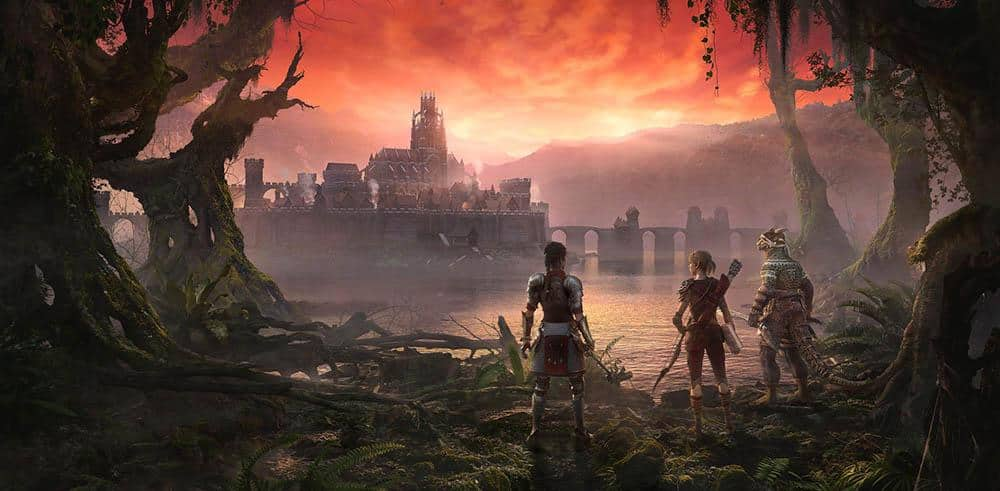 Collector's Edition Items
For everything on Blackwood's editions, Collector's Edition items, and more, check out this article.
Getting Started in Blackwood
Once you have access to the Blackwood Chapter, you can travel to the new zone and begin your adventure in the following ways:
By Wayshrine
If you'd like to explore Blackwood with an existing character, you can teleport to the new zone directly via the Leyawiin Outskirts Wayshrine. To do so, simply open your map, select the Blackwood zone, and then select the Leyawiin Outskirts Wayshine icon (it should be the only one active in the zone).
Via the Blackwood Main Quest
You can acquire the Blackwood main quest by navigating to your Collections UI, selecting Stories, and then Chapters. From there, you can select Blackwood and pick up the first quest, titled "A Deadly Secret," to begin. The quest will point you toward where you need to go to make your way to the zone.
Via the Tutorial
You can also travel to Blackwood by creating a new character and completing the new tutorial. At the end of the tutorial experience, you can select Blackwood as your destination zone and get started.
Of course, you can explore Blackwood with an existing or brand-new character, regardless of their level (there's no level requirements for any PvE zone). Adventure awaits!
Update 30
Releasing in tandem with the Blackwood Chapter, Update 30 is a free base-game patch for all ESO players that includes a host of new features, quality-of-life improvements, and fixes—no additional purchase needed!
Endeavors System
With the new Endeavors system, going live later this month, you can complete daily and weekly tasks to earn a new type of currency, called Seals of Endeavor, used to acquire Crown Crate items. Previously, the only way to own these rare items was by either opening Crown Crates or by spending gems, but with this new system, you can acquire them simply by playing the game. The daily and weekly Endeavors includes all kinds of regular ESO activities such as combat, exploration, questing, crafting, etc., and rewards variable amounts of Seals each day.