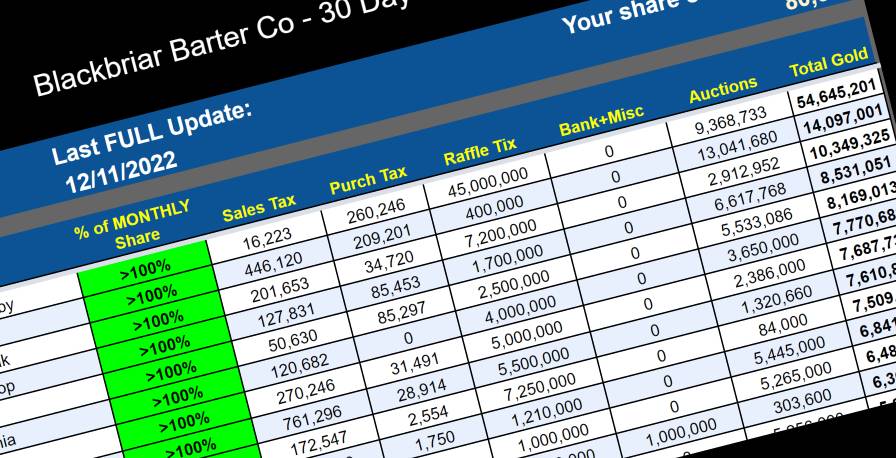 Use CTRL-F to find your name
If you are new to the guild, we may not have 30 days of data for you yet.
Did we miss something?  Don't Panic! Contact @Hiyde or @sol0! 

What your BBC Guild Score Means
WHAT'S INCLUDED IN MY SCORE?
Sales Tax

Purchase Tax

Raffle Tickets

Gold Donated to the Guild Bank

Auction Donations + Winning Auction bids

…and other factors.
HOW CAN I RAISE MY SCORE?
For details, click here.
WHAT TRIGGERS A REMOVAL REVIEW?
In order to make room for new members on our waiting list, we remove "Inactive" members about once a week.  We're not overly eager to remove anyone from the guild but at the same time, we need everyone to be actively contributing so we can pay the bills.
We consider a number of factors for every single member that we review:
Last Login Date


7+ Days without a login triggers a review.


Putting a note on the member roster with return date (MM/DD/YY) will result in us trying to hold your spot for up to 30 days.

Time in Guild


New Members are given up to 30 days to build history




Long time members are given extra consideration. 

Guild 30 Day Score


We'll also look at recent activity to see if it's rising or declining




Being in the bottom 10% (450 or lower) can trigger a review.
WHAT IF I GET REMOVED FOR INACTIVITY?
Members removed for inactivity are welcome to rejoin the guild when their situation changes, unless we find ourselves booting a member over and over for the same reason.  High Volume trading guilds aren't for everyone. 

To re-join the guild, just fill out a member application (mention "returning member" and that you're ready to contribute at a higher level again).