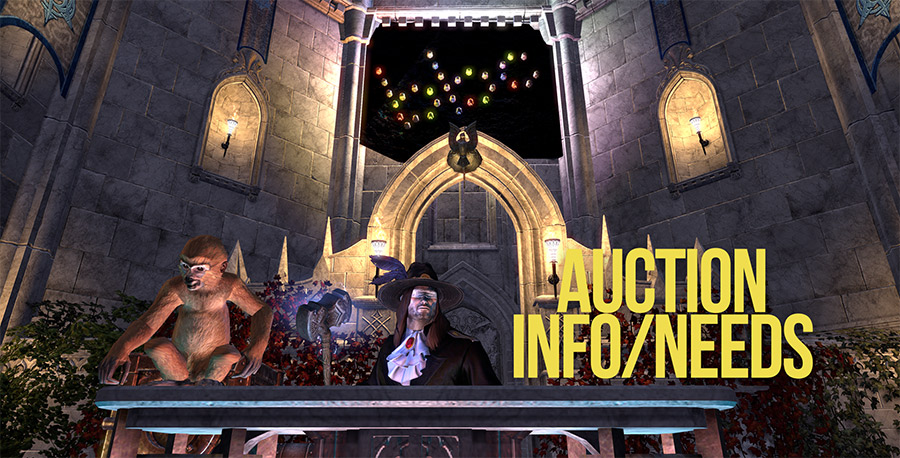 AUCTION DONATIONS
We're always looking for popular items to sell in our auctions.  Contributing auction items is a great way to help the guild *and* raise your BBC Ranking Score! 
Below, there's a list of items that sell well in our auctions.
If you aren't sure about an item, reach out to @MtnDncr (Blackbriar), @Hiyde (Bleakrock)
WHERE TO SEND DONATIONS
Bleakrock:  Mail to @BBC1Auctions
Blackbriar:  Mail to @BBC2Auctions
DESIRED DONATIONS
Anything

that goes into a craft bag, in

any

quantity!

Anything that can be stacked to a value of at least 10,000G
(i.e. you send two Psijic Ambrosias, total value 8k.  We can add more to get it over 10k.)
Single (Unstackable) items must be worth at least 10,000G.
Crowns!  (1,500+ suggested)

UNrefined Ore, Silk, Leather, Dust, Wood (any level)

Refined Ore, Silk, Leather, Dust, Woods (CP150)

Alchemy Mats



Tri-Stat Potions (CP150)

High-Value Food (CP150 or Scalable)

Purple & Gold Boosters (Dreugh Wax, Mastic, etc)

Any color of Jewelry Plating or Grains

Any type of Ambrosia

Furnishing recipes worth 10K+

Furnishing Mats (Mundane Rune, Decorative Wax, etc)

Luxury Furniture (and notable crafted furniture)

Valuable Motifs (10K+)

Regular or Attunable Craft Stations 

Transmute Stations

Valuable Trait/Style items (i.e. Gilding Wax, Culanda Lacquer, Aurbic Amber etc.)