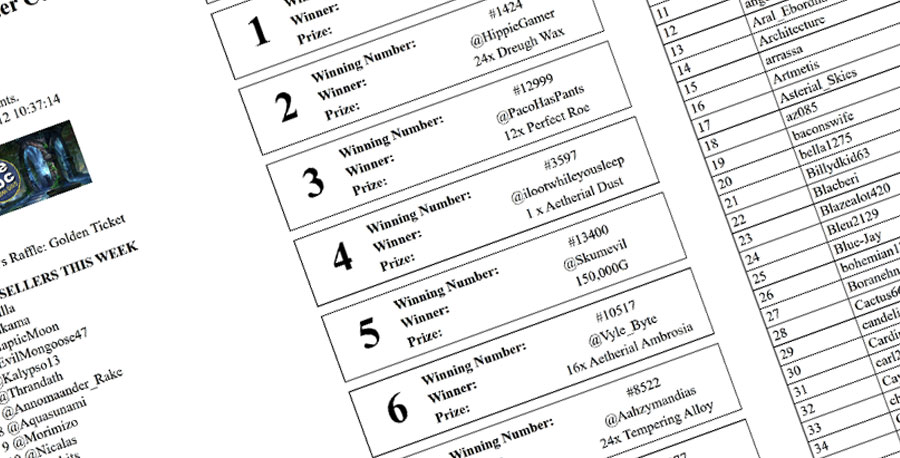 ABOUT OUR RAFFLES
The BBC Guilds have given away over TWO BILLION GOLD in raffle prizes!
Each week means a new raffle theme with millions in items & gold to win.
100% TRANSPARENCY
All raffle tickets are posted online and the live prize drawings can be viewed by anyone in our Discord "Dice Room" channel. 
THE BBC PROGRESSIVE JACKPOT!
The BBC Progressive Jackpot is a cross-guild prize.  Both of our guilds contribute 3.5% of weekly ticket sales to the pot.  One contestant from each guild is selected to play for the Jackpot every Sunday night during the guild raffles.  Unlike our other raffle prizes, everyone has EQUAL ODDS to be selected as long as they've bought at least one raffle ticket!
Where else can you turn 1,000G into a huge pile of gold?  Each win is typically in the millions! 
TOP TRADER'S REWARD
As a token of our appreciation for our most active traders, each guild randomly awards a 200,000G prize to one of our Top 25 Sellers (or a member on our Top 25 Customer list for the week!)
BBC MINIGAMES
Every Sunday night, after our Raffle drawings, we cap the night with minigames such as "Hiyde & Seek", "Deadpool", "Darts" and other games, with hundreds of thousand's of gold up for grabs!
RAFFLE INFO
TO BUY TICKETS:
Mail (1,000G) x (the number of tickets you'd like) to:
@raftix (Blackbriar)
@BBCGuild (Bleakrock)
PURCHASE DEADLINES:
10P EDT Sunday (Blackbriar)
10:30P EDT Sunday (Bleakrock)
RAFFLE TIMES:
10:30P EDT Sunday (Blackbriar)
11P EDT Sunday (Bleakrock)