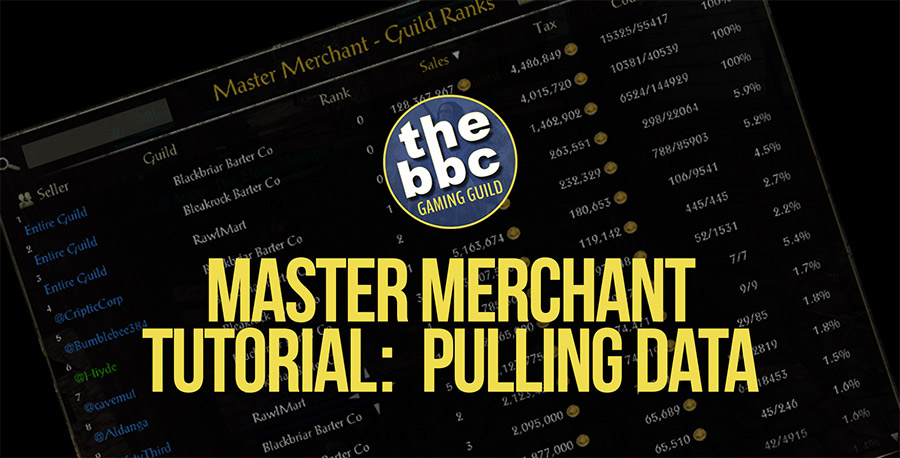 How to Manually Pull Sales Data for Master Merchant
WHAT HAPPENED: 
In 2019, ZOS severely limited how quickly addons like MM can pull data from the Guild History.
Lemme put it this way:  unless you're strapped into your workstation with your Heavy Duty Gaming Diaper snugly equipped and playing ESO around the clock, you probably aren't getting 100% of the sales data from your guilds.
Here's how to fix it:
MANUALLY PULLING SALES DATA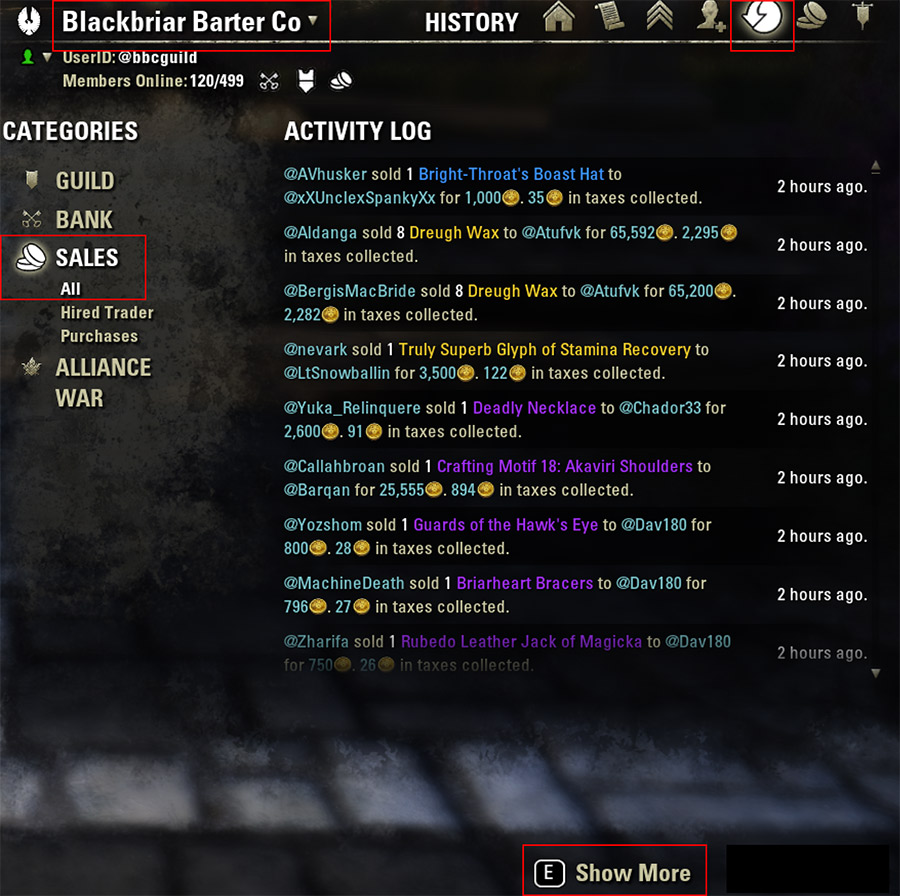 TO LOAD DATA:

Press "G" to open the Guild Window

Choose a Guild (top left of Guild Window)

Click the "History" icon (top right of Guild Window)

Click "Sales" under categories.  (left nav – Guild Window)

At the bottom right of your screen, you will see a "Show More" button along with the assigned key.  ("E" by default)

Do some finger warmup exercises, get comfy, grab a drink and put on some good music or TV.

Press that key about once per second until "Show More" disappears. This can be 200+ key presses depending on guild sales volume.


Repeat the above steps for each guild you'd like to update data for.
WARNING:
Pressing the "Load More" key too frequently could result in you getting booted for spamming and you having to start all over again.


Once you've loaded up data for all of your guilds, you need to make sure that Master Merchant has scanned all of it.
While you might see numbers updating as you press the "E" key, that doesn't guarantee ALL data has been read in.
Run the MM Missing Command:
Type /mm missing into your Chat Window and press <Enter>
Allow some time for Master Merchant to complete the process.
Relog or port to a different place to ensure that the data has been permanently saved to your local machine.
(If you experience a game crash before doing this – the data will probably be lost and you'd have to start all over again).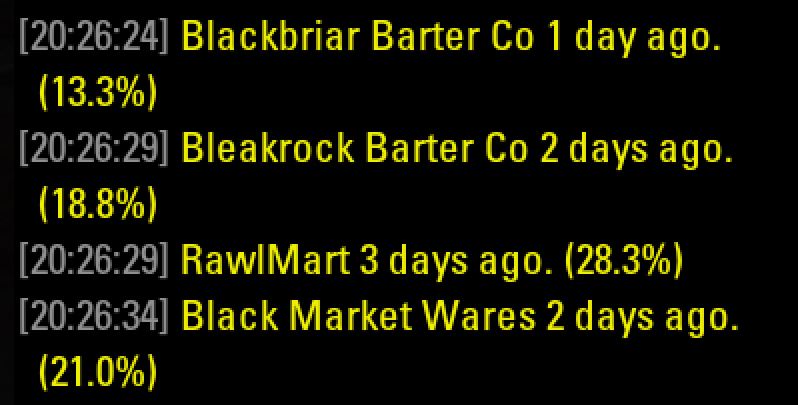 Verbose Setting:
In the MM Addon Settings (near the bottom) is a slider for "Verbose".
Setting it to "1" will show a minimal amount of info in your Chat Window.
In the image to the left, Verbose is set to "4" and you'll see more info, such as progress on a "Missing" search.
How Often You Should Pull Data:
That really depends on how often you want to see fully updated info for Sales Totals, Average Pricing, etc.
ESO makes the last 10 days of sales available in the Sales History.
If you want to keep a fully accurate history on your local machine, you'll need to follow this process at least once every 10 days.