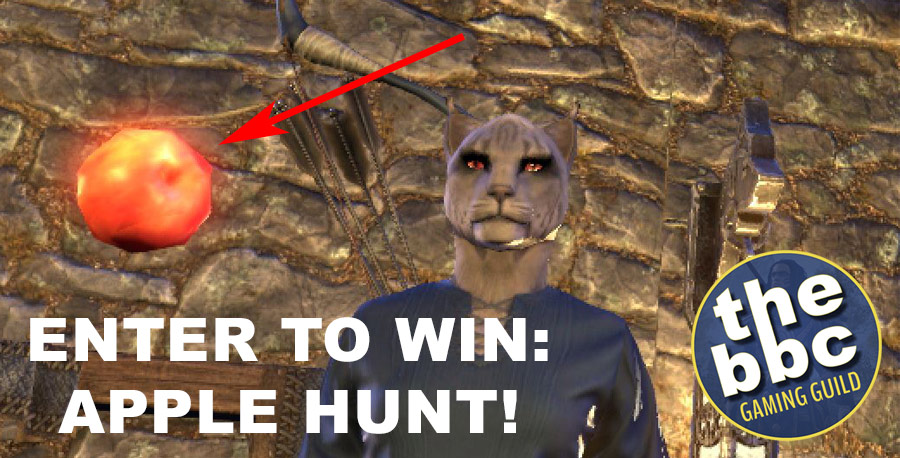 EVERY APPLE YOU FIND = ANOTHER CHANCE TO WIN BIG!
We've hidden 8 apples at the brand new Autumn version of our Linchal Guild House!
Find as many as you can and describe (using the form below) where you found them.
For example:
"…by The Precursor training dummy's foot"
"…behind the Julianos crafting tables"
Congrats, now you know two places NOT to look!  🙂
TIPS/CLUES:
– Look UP!  Look DOWN!
– All items were placed in 3rd person view.  You may have issues if you use First Person
– You don't have to climb onto anything to find an apple
– All apples are within the "perimiter" of the property.
– You may only submit ONE form – please wait to do so until you are done hunting for the week.  (You don't have to find all 8!)
Each correct answer = 1 entry to win a prize!
FIND *ALL 8 APPLES* AND YOUR TICKETS WILL BE DOUBLED!
THE PRIZES:
250,000G
250,000G
Alinor Greenhouse
250 Voucher Shopping Spree
250 Voucher Shopping Spree
2x Chromium Plating
2x Chromium Plating
Diagram: Hlaalu Stove, Chiminea
Design: Provisioning Station, Elsweyr Grill
DEADLINE TO ENTER IS SUNDAY, SEPTEMBER 20TH AT 9P EDT
DESIGN TEAM:
– @Isildi (Lead Designer)
– @Kurthis
– @Hiyde
– @middnight2006
– @johnicus
– @sol0
– @cardinal05